Home Sea trials

The Lagoon 440 is a well-finished multihull catamaran with a good level of equipment
The Lagoon 440 is a well-finished multihull catamaran with a good level of equipment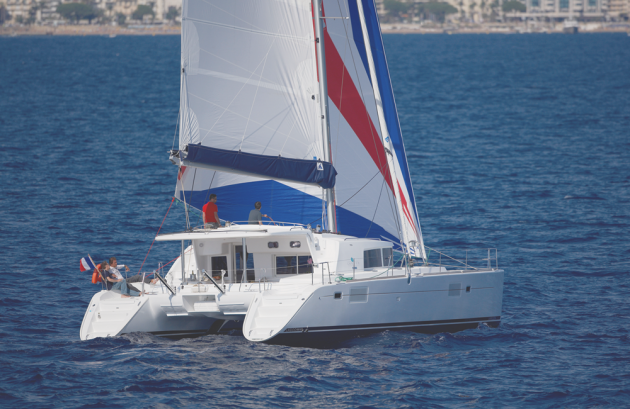 Last update of the post: 27 August 2016
Visits: 751
First impression when stepping aboard the Lagoon 440 is the feeling of space achieved though the builder's traditional use of a long flat coach roof and straight windows. The saloon is certainly voluminous with a 'U' shaped seating area for eight around a table. Unlike many other boats this one has seating on both sides doing away for the need to use folding director chairs. There is a well equipped galley to starboard facing out towards the cockpit with a sliding window for passing food through. This has a stainless steel counter top with a double sink and mixer tap plus an integrated draining area for dishes. There is a three burner stove with oven and grill. A 12-volt 130 liter (34 US gallons) fridge is standard and there is a provision for an optional second fridge or freezer. The navigation area is placed opposite this looking forward. There is a reasonable amount of room for electronic navigation equipment and an option to have duel engine controls here. Users of paper charts would have to bring the saloon table into use. All of the major French catamaran manufacturers have adopted a much lighter "oak" type finish in recent months and Lagoon is no exception. I much prefer it to the older style but understand that some potential buyers have complained of the change. To starboard on the owner's version is an excellent suite with a large semi-island double berth and seating area where a flat screen television could be viewed. Forward is a compact desk and office space and then the utility area where a washer/dryer could be installed. On the test boat this area was replaced with cupboard. Forward of this is the large heads with a full-sized wc, washbasin and separate shower area. To port there are two double cabins each with their own ensuite facilities. All three berths are two meters long (6'7") and 1.67 (5'2") at their widest point. There is ample storage area throughout. The charter version would have an identical layout to this in the starboard hull. It is possible to have two single cabins forward in the port and starboard hulls and the latter can be equipped with a toilet and shower.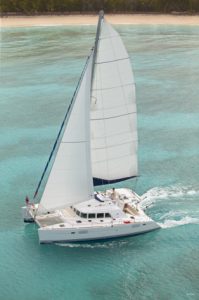 Outside is a clutter free cockpit since all boat handling is done up on the fly bridge. There is ample seating here for eight people here. There are two stairways up to the flybridge but the portside one provides the easiest access leading straight up from the cockpit. Once up there the world is at your command. You can see all parts of the boat at a glance which makes berthing quite simple. The large cushioned bench seat can take four or five people comfortably. There is a folding canvas bimini complete with transparent windscreen to protect the helmsman in inclement weather and hot weather shading can also be installed. The large leather covered wheel is close at hand as are the engine controls with plenty of room for instruments, chart plotter and the rest. A total of four winches are located in this area. There is an electric 46.2 for hoisting the mainsail halyard and controlling the reefing lines; two 53.2 manual winches take care of the Genoa halyard and sheets as well as the optional genaker or spinnaker lines. A further 53.2 behind the helmsman controls the mainsheet, main traveler and the Genoa furling lines. One final winch is located below in the cockpit. This is a 32.2 which can be used as a safety release for the mainsheet as well as hoisting the optional davit lines.
"Catamarans" boat test: Our boat test day was cold, wet but with only an easterly force three blowing in the Solent. Coming out of the haven berth she handled well under the twin 53HP Yanmar engines, fitted instead of the standard 40HP, and proved easy to maneuver. Things improved once both engines were brought into play with 6.8 knots 1500 rpm; 8.4 knots at 2000 rpm; 9.1 knots at 2500 rpm and 9.4 knots at 3000 rpm. Under sail the Lagoon 440 did surprisingly well considering the light winds and the fact that she displaces 12.15 knots (29,791 lbs) in light displacement mode. Given the amount of equipment on board our test boat was certainly heavier than this. The wind was a consistent force three from the East. At 40 degrees to the apparent wind she made 6.4 knots which dropped to a fairly predictable 4.5 knots going down wind. Our best performance was 7.2 knots at 55 degrees apparent. She tacked easily through 90 degrees apparent and the steering always felt quite positive.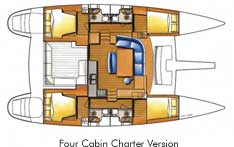 The Lagoon 440 is a well finished boat with a reasonable level of equipment. She is built from polyester and vinylester resins with a balsa core bridge deck and hull above the waterline and solid laminate below.
Condividi post su: