The Comet 41 Sport is a true statement boat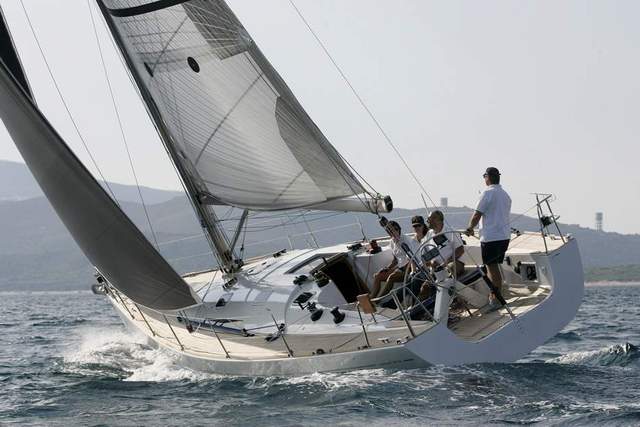 Last update of the post: 24 March 2016
Visits: 664
The Comet 41 Sport is a successful IMS/IRC racercruiser which fits tidily into that spectrum. Launched in Italy, it is well-proven, with a string of racing successes. Comar has been building yachts since 1961 and were one of the first companies to build in glassfiber. They mix modern vacuum bagged sandwich construction with genuine artisan woodworking skills. Hulls are manufactured in Airex sandwich with unidirectional and biaxial fibers and epoxy-vinyl resins. While many of the deck fittings come from premium brand names, when an item does not exist or does not meet their exacting standards then Comar manufacture it in-house. That can be anything from custom carbon wheels, to stainless mooring cleats. The Comets are designed by Studio Vallicelli. The Comet 41 Sport hull shape is pretty modern IMS by convention but with a gentle overhang to the stem and neat stern which will reduce wetted surface for the lighter Med conditions, but still produce ample power downwind when the stern sinks a little. There are two keel options, the standard 2.2m lead keel weighs in at 2,690kgs, but a deeper 2.45m lead keel is available with galleries which can add an additional 200kgs for IRC or be removed for IMS optimisation.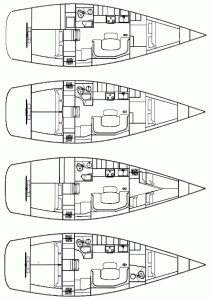 The Comet 41 Sport has true cruising potential and there are regular reminders through the boat, including traditional features like a big forward sail locker on the foredeck. The cockpit ergonomics are excellent. There is a pleasing balance between what works for racing and for cruising. So the winches are well sited, there are nice long smooth cockpit coamings which work well for the cockpit crew when working to windward, but so too the cockpit is relatively deep and secure for family cruising with good, deep backs to the seats. Overall you get the underlying impression that the boat is developed and finessed by builders who are enthusiastic sailors.
Down below the finish and fit out is good. There are four interior options for the Comet 41 Sport: forward double with heads, two double aft cabins, a regatta version with four bunk berths in the forecabin and one double aft, a version with double forward cabin and no forward heads and two double aft cabin, or the same version with just one double aft cabin. The galley of the Comet 41 Sport is linear to port, opposite the main saloon. This gives plenty of working space and leaves plenty of accessible locker and stowage space. There is a top opening fridge as standard, the twin stainless sinks are good-sized, and the finish excellent. The forward cabin benefits from the slightly slab-sided IMS-style bow which produces plenty of space in what is quite a big, airy double, while the aft cabins have good headroom and are well appointed. The nav station is also well up to the high standard this boat sets.
Overall it's hard not to be impressed by the Comet 41 Sport. You step aboard wondering 'Why would you when there are many 40-41-footers around?' and step off fully engaged by its subtle, very persuasive charm and good performance. It's a bit of a statement boat, something different for the discerning owner who does not simply want to follow the crowd. There is so much neat detailing and, for the price, quality workmanship that stands out as virtually unique. The Comet 41 Sport comes from a yard which appears to sit comfortably astride the traditional notions of craftsmanship, but still embracing what the contemporary racing sailor wants in terms of modern mid-tech build for performance and strength, well developed and refined layout and a real cruising capacity
See more at "Yachts and Yachting"
Condividi post su:
We suggest other ships that could be of your interest
‹
›