Najad 440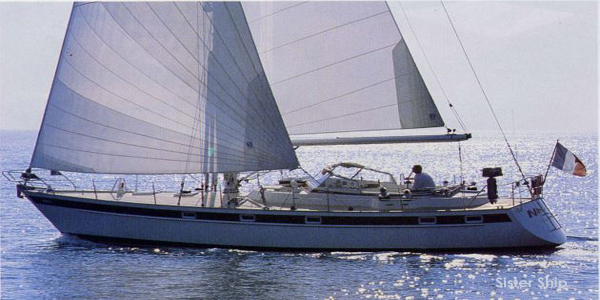 Last update of the post: 30 October 2019
Visits: 257
The 

Najad

 440 follows up, with a larger size, the same concepts and soundness of the previous model, the 

Najad

 390. It is a boat with considerable inertia, due to its weight, excellent route stability and a soft wave cutting, which is appreciated not only during long ocean crossings. Sail surface was well-conceived for handling by only one person, with a well-balanced ratio between the mainsail and genoa, in order to obtain good performances. The helmsman just needs to turn in order to adjust the mainsail by utilizing the traveler or the sheet. Genoa winches are equipped with laybys outside the cockpit that can be reached by the helmsman. The 

Najad

 440 was built with great care; it is a very strong boat for those used to sailing for many mails even in bad weather conditions. Its safe marine qualities are matched by well-manufactured and finished interiors, designed with elegant sobriety. 
Sweden-based 

Najad

 has a long and prestigious history behind its back, and it is considered one of the most important sailboat builder in the world. At the end of the '60s, Berndt Arvidsson and his colleague Thorwald Karlsson decided to enlist designer Olle Enderlein to create a sturdy 33-34 footer with exceptional qualities, spacious interiors, good sail surface and a big engine. The choice of improving manoeuvrability by turning a keel with integrated rudder into a separated rudder guaranteed excellent results. The first boat, named "

Najad

 no. 1″ was launched in 1971. After a successful yacht show in Hamburg, the orders for the new 34′ took off and the shipyard moved to a larger headquarter. The builder was already compliant with Lloyds-approved criteria and qualities, since they inspected the construction of boats in order to approve them. Excellent quality of construction and materials have always been a distinctive trait of 

Najad

 boats. Currently, the sipyard manufactures sailing yachts between 40 and 60 feet: 

Najad

 395 AC and CC (launched in 2019); 

Najad

 450 CC (launched in 2016) and 

Najad

 570 CC. So far, 

Najad

 has sold over 2,000 boats. View the brochure online.
We suggest other ships that could be of your interest
‹
›