The Ovni 395 is designed to be sailed by a couple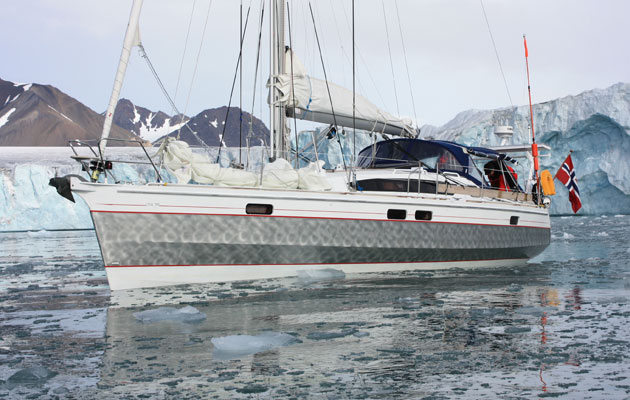 Ultimo aggiornamento dell'articolo: 11 May 2016
1,131
The utilitarian styling of the Ovni 395 may narrow its market appeal, but any pragmatic cruiser will gladly allow function to lead fashion out onto the high seas. Philippe Briand has drawn a no-nonsense, go-anywhere cruiser that will carry its crew safely, quickly, and in comfort through any ocean of the world. However, those more used to fiberglass hulls must be aware that aluminum boats require extra attention with regard to stray electrical current, wiring, sacrificial anodes, and paint systems. The Ovni 395 isn't limited to oceans alone. The hydraulic lifting keel and rudder (with a 1-foot-11-inch draft), protective propeller skeg, and flat grounding plate just cry out for picnic beaching and gunkholing away from crowds.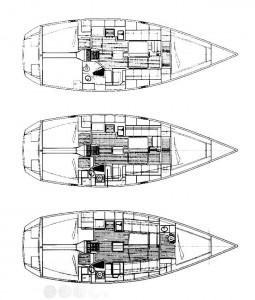 The French builder, Chantier Alubat, has fashioned a robust hull out of the highest-grade aluminum. The deck layout is semiflush and simple. All sailing functions lead to the ergonomic aft cockpit. The trademark radar/antenna arch doubles as davits. A 55-horsepower Volvo with a three-bladed Max-Prop powers the vessel smartly. Even with a low SA/D of 15.22, the Ovni is easily driven in light air. It should prove stiff in heavy air due to initial form stability and ample lead ballast encapsulated into the shoal hull. With a board-down draft of 6 feet 11 inches, the boat performed to windward in sprightly and efficient fashion. The Ovni 395 has a STIX (short for "Stability Index") of 33.41 – very low for offshore work, but she's a proven ocean cruiser.
The light interior's fit and finish are of a high standard, and it's offered in several configurations. The usually problematic centerboard trunk is cleverly used to create open and useful spaces. The boat we tested had been actively sailed for eight months before arriving in Annapolis, and it showed evidence of the wear and tear a sailboat will incur offshore. That said, it also demonstrated that the Ovni 395 can walk the walk when it comes to voyaging, which, coupled with its favorable price, should pique the interests of any serious cruiser.
A pure cruising boat, the 395 is designed to be sailed by a couple. All lines lead aft to the cockpit, which is comfortable but not overly large. The stern arch comes standard and doubles as davits for a 10-foot dinghy. Down below, the interior is finished in varnished oak, which lends the space a warm honey- colored ambience. Alubat offers semi-custom interiors so an owner may fiddle with the design to meet special needs. The basic layout offers a V-berth forward and two quarter cabins. The saloon has a dinette to port, a good seagoing galley and a large chart table. We sailed the Ovni 395 on the Chesapeake Bay and came away impressed with the boat's ocean-going capabilities. If you are looking for a passagemaker that can withstand a collision, take the ground easily and will make good miles on passage, the 395 provides a unique cruising solution.
Source: "Blue Water Sailing" & "Cruising World".
Condividi post su:
We suggest other ships that could be of your interest
‹
›