RM 1260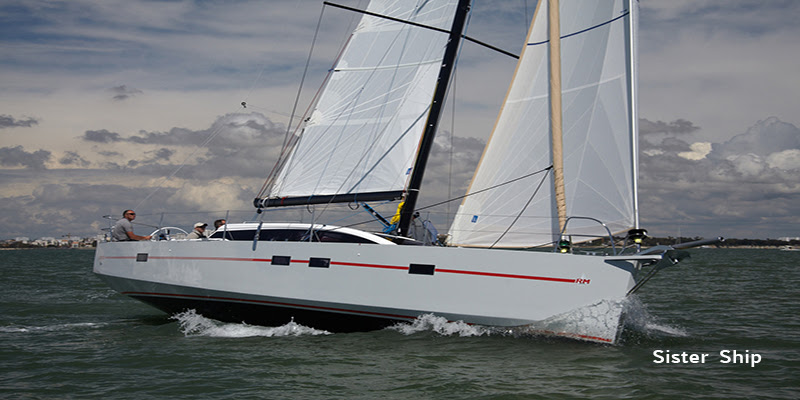 Last update of the post: 20 November 2019
Visits: 50
The RM 

1260

, designed by Marc Lombard, was first introduced on the market on March 2012, with the aim of replacing one of the historical models of the French builder For a Marine, the RM 1200. Comparing to this previous model, there is a stronger focus on comfort, even if it kept the requirements of a performing ocean boat. The design made by Lombard for For a Marine is very similar to a Class 40, but it was adjusted to the needs of cruising. The RM 

1260

 was conceived for long cruises downwind; it has a 9/10 sail plan with a genoa (50 sqm) that is slightly larger than the mainsail (49 sqm). The RM 

1260

 is perfect for an owner who love sailing in all conditions, from the lightest breeze to the coolest wind. Even if it is a boat to have fun with during regattas, its main target is a safe long cruise in all weather conditions. The RM 

1260

 is a very appreciated cruising boat from the international audience. This is the reason why the standard version of the RM 

1260

 is equipped with double hull, while for clients who sail in the Mediterranean there is a monohull version with dual rudder blade (in the double hull version there is only one rudder blade).
RM Yachts was founded in 1989 by Jean-Claude Oudry in Perigny, not far from La Rochelle, an important French pleasure boating center for ocean cruising. From the very beginning, the shipyard stood out for using innovative materials and construction methods. The first boat built by the shipyard was the RM 900, appreciated by the public for its speed and stability. In 1995, the shipyard started to collaborate with the renowned yacht designer Marc Lombard, well-know for designing several ocean cruisers and racing boats. The first model designed for RM Yachts was the RM 800 (8 meters), followed by a 35 footer in 1998: the RM 1050 winner of the "Yacht of the Year" award in 1999. In 2002, Fora Marine group acquired RM Yachts and upgraded its manufacturing capacity. Those were the years of the RM 1200 (in 2004) and RM 800 (in 2006). The crisis of pleasure boating in 2010 led the shipyard to change strategy, and to focus on characteristics such as: elegance, purity of lines, speed and performance, as in the case of the RM 1060, introduced in the same year. This model was followed by the RM 

1260

, introduced in 2012 and winner of the prestigious "European Yacht of the Year" award in 2013. 30 RM 

1260

 were sold in the following 2 years. Later, the shipyard was relocated to a larger headquarter (5400 sqm), and in 2017 won the "European Yacht of the Year" award once again, this time with the RM 970. View the online brochure
We suggest other ships that could be of your interest
‹
›