CANADOS 70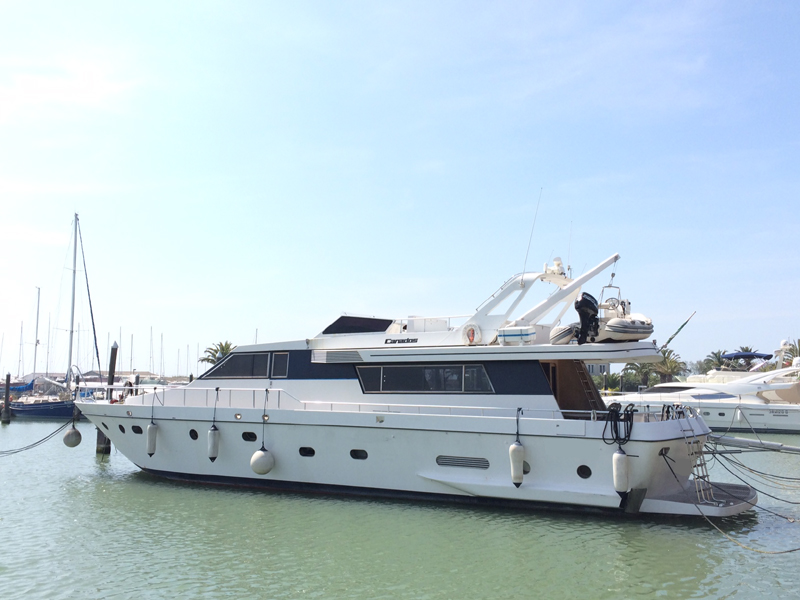 Last update of the post: 29 July 2014
Visits: 1,405
MEDIA SHIP: SANDRO, WE KNOW THAT YOU ARE A GREAT LOVER OF THE SEA AND HAS ALREADY OWNED OTHER BOATS AMONG WHICH AKHIR 19 DOUBLE PLATING, ALUMINUM  RAPTOR 56 REALIZED  ​​BY  ROSSI BROS. WHY DID YOU CHOSE TO BUY A CANADOS 70? WHAT STRUCK YOU IN PARTICULAR OF THE BOAT THAT YOU BOUGHT?
SANDRO: I CHOSE THIS BOAT FOR HER HABITABILITY, BE'CAUSE SHE COMES FROM A BUILDER WITH AN IMPORTANT STORY AND  SHE IS' WELL BUILT. I WENT BACK TO A WOODEN BOAT WITH THE AKHIR 19, AFTER THE ALUMINUM (RAPTOR 56) AND NOW I WANTED TO GROW IN SIZE, BECAUSE MY NEED WAS A BOAT TO USE WITH MY FAMILY AND THIS BOAT HAS THE RIGHT SIZE.  SHE IS ALMOST  A BEACH HOUSE.
MEDIA SHIP: WHAT ROLE HAS MEDIA SHIP  ACTUALLY PERFORMED IN YOUR PATH?
SANDRO: MEDIA SHIP IS HISTORICALLY THE BROKER WHO CONVINCED ME TO BUY MY BOATS, BECAUSE THEY GIVE ME APPROPRIATE ADVICES, UNDERSTANDING MY NEEDS AND FINDING THE RIGHT PRODUCT. THEY DO NOT MAKE A SALE ENDING IN  ITSELF BUT RATHER A USEFUL ADVICE. ALESSANDRO GUARDIGLI IS A SERIOUS PROFESSIONAL AND NOW A FRIEND FOR MANY YEARS. I CAN SAY THAT I BUY A BOAT ONLY IF ALESSANDRO SUGGESTES HER TO ME!
MEDIA SHIP :  WOULD YOU RECOMMEND MEDIA SHIP TO A FRIEND OF YOURS?
SANDRO: ABSOLUTELY, AS I SAID ABOVE BECAUSE MEDIA SHIP IS A COMPANY THAT ACCURATELY IDENTIFIES THE REAL NEEDS OF AN OWNER AND DO NOT MAKE JUST AN "ABSTRACT" SALE.
Condividi post su: