ALALUNGA 22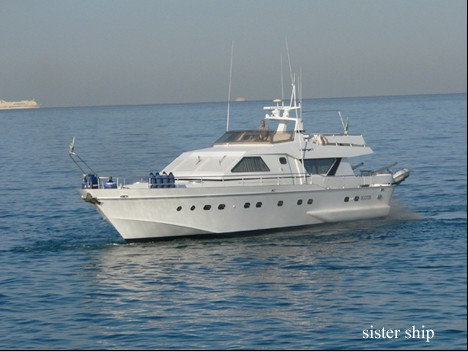 Last update of the post: 29 July 2014
Visits: 1,401
WE OFFER YOU A SHORT INTERVIEW WITH ONE OF OUR CUSTOMERS RECENTLY ACQUIRED, EVANGELOS, GREEK  BY BIRTH BUT BY AUSTRIAN BY ADOPTION, OWNER COMBINING A LOVE FOR THE SEA OF ​​HIS NATIVE LAND WITH THE PRAGMATISM AND THE NEED FOR EFFICIENCY TYPICALLY CENTRAL EUROPEAN. HE HAS JUST BOUGHT A BEAUTIFUL ALBACORE 22 METERS FROM AN ITALIAN OWNER AND NOW IS SUPERVISING  THE WORKS, WITH THE HELP OF SPECIALISTS RECOMMENDED BY MEDIA SHIP.
MEDIA SHIP: EVANGELOS, WHY DID YOU CHOSE THE ALALUNGA  22? WHAT CONVINCED YOU THAT SHE WAS THE RIGHT BOAT FOR YOU? 
EVANGELOS: MOSTLY CONVINCED ME HER TECHNICAL FEATURES BECAUSE SHE WAS EXACTLY WHAT I WAS LOOKING FOR.
MEDIA SHIP: WE KNOW THAT YOU  ALREADY OWNED SEVERAL BOATS, WHICH ONES? WHAT MOTIVATED YOU TO CHANGE ?
EVANGELOS: YES, I HAD A CARVER 40 FLYING BRIDGE, THEN I WAS INTERESTED IN VARIOUS CANADOS 70. I WANTED TO SWITCH TO A LARGER SIZE.
MEDIA SHIP: DESPITE NOT KNOWING MEDIA SHIP, YOU  ADDRESSED TO  US. WHICH WAS ACTUALLY THE ROLE PLAYED BY MEDIA SHIP IN YOUR PATH? 
EVANGELOS: THE SERVICE OFFERED BY MEDIA SHIP 'WAS CRUCIAL, ESPECIALLY FOR PEOPLE LIKE ME WHO BUY A BOAT IN ANOTHER COUNTRY. WE HAVE BEEN ASSISTED AT ALL STAGES AND HELPED RESOLVE ALL TECHNICAL PROBLEMS AND OVERCOME BUREAUCRATIC ISSUES
MEDIA SHIP: WOULD YOU RECOMMEND MEDIA SHIP TO A FRIEND? WHAT WOULD YOU TELL ABOUT  US? 
EVANGELOS: YES, OF COURSE, YOU ARE CERTAINLY EXCELLENT PROFESSIONALS. YOU ARE PEOPLE WE CAN TRUST WITH CLOSED EYES.
Condividi post su: